MOFWUS Quartermaster Ordering Instructions
The MOFW continues its quest for quality in all of the items it provides for our Companions and at the lowest possible cost. However, our vender's prices will continue to rise and, if we plan to keep our current inventory, these cost increases must be passed on to you. Please be advised that we evaluate each vender increase and determine the most reasonable cost to pass on to you, our customer. In addition, from time to time we discontinue slow moving and/or "no longer wanted" items in order to provide you what you want and when you want it. So please check the QUARTERMASTER'S STORE often to keep current on prices and what is on the supply room shelves. By the way, if you have an idea for an item that would "advertise" and support the purposes of the Order, send the idea along to me for evaluation and consideration. The Order wants to stay up to speed with the desires of its Companions if at all possible. And last, but not least, the Order has a "no questions asked" return policy. If you are not happy with the MOFW item you purchased, return it for a replacement or a full refund. Wear your MOFW Insignia, badges, ties, hats, shirts, and pins proudly and often!
Inventory and Pricing updated for May 2022.
New 2022 Quartermaster Order Form – Download Now!
All prices include shipping and handling.
Please make checks payable to: Treasurer-General, MOFW
or you can pay using Paypal to azmofw@gmail.com
---
Men's Clothing and Accessories
Polo Shirt,Black, w/Embroidered Insignia (Gold Lettering) and Name on shirt
Specify: Sizes S, M, L, XL, XXL
Cap, Adjustable, Black, Insignia w/Gold Lettering)
---
Bow Tie w/strap (Straight)
Bow Tie make yourself (Butterfly)
MOFW Necktie
---
Cap, Overseas, w/ Embroidered Insignia (No longer available)
Sizes 7, 7 1/8,7 1/4, 7 3/8, 7 1/2, 7 5/8, 7 3/4
---
Pocket Patch, Blazer or Suit Jacket, Gold Bullion
---
Insignia
Insignia, w/Neck Ribbon Veteran
Insignia,w/Lapel Ribbon Hereditary
---
Insignia, Miniature w/Ribbon
MOFW Service Ribbon
"All insignia ribbons are allowed to be worn by all Companions of MOFW"
---
State Commander Bar
Past State Commander Bar
---
MOFW Tie Tac
MOFW Pin, Lapel
---
MOFW Rosette, Lapel
Specify: 3/8" Diameter or 1/2" Diameter
---
Honorable Service Medals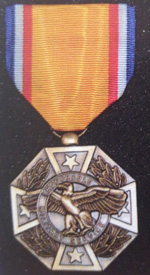 Since World War II, the Armed Forces have been involved in numerous military operations, beginning with the Korean War and extending up the war against Iraq. Although a variety of campaign and service medals have been authorized for these wars and operations, the Defense Department has not established an honorable service emblem for discharged veterans. The Honorable Service Medal was created to fill this void.
This medal is not issued or authorized by the Federal Government, nor can it be worn on the active duty uniform. However, it has been adopted by the Military Order of Foreign Wars and is offered as a purely civilian device to commemorate honorable military service.
---
Cold War Medal Set
Cold War Service Medal Set
It may be worn by any member of the United States military, or civilian employees of the federal government, who served in their positions honorably during the years of the Cold War, defined as lasting from September 2, 1945 to December 26, 1991
---
Miscellaneous
Book, HISTORY OF THE ORDER
First One Hundred Years 1894 – 1994
---
MOFW Large Diploma (Parchment Paper, 17" x 21")